Lost Shibas and other Pets
Peach - Missing in Saratoga Springs NY Sep 29 2012.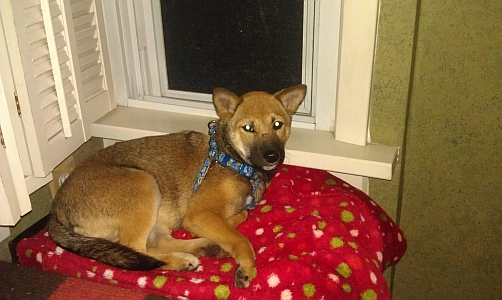 Peach is one of our mill babies. She was jumped on getting out of the car and pulled the leash out of her moms hands and ran off. Peach weighs 12 lbs is wearing a harness and leash color blue with yellow peace signs. She has a scar on the bridge of her nose. Her head is red her body is brown tan and black. Her underbelly is cream. Her legs are tan. Thanks. My number is 518-332-1304 email is feyga.alpert@Gmail.com.
Tiki - Lost in Queens NY on Feb 24 2012.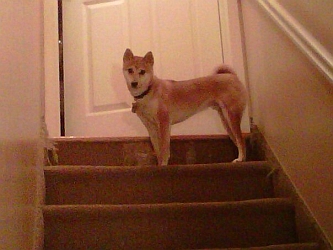 Tiki is a male Shiba Inu. He was last seen around 109th ave and 159th street in Queens NY. He is 3 years old. Please help him find his way home. His coat is tan/white. He is very shy but sweet as pie. He is 20 pounds. He has dog license on his collar. Gold name tag in the shape of bone. If you see him or have any information about him please call Lisa at 917-334-8234 or Norris at 646-295-7551.
Fudge - Lost in Bourbon IN on May 1 2011.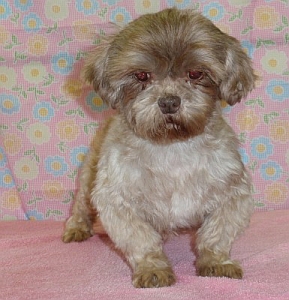 Fudge is a very shy little Shih Tzu. She is probably very scared and may not come to strangers. Fudge is about 3 years old, spayed and microchipped but is not wearing a collar as she slipped it and ran. If you see Fudge, please call 513-876-2864 or email us at info@tristateshiba.org.
Stewie - Lost in Gahanna OH on April 30 2011.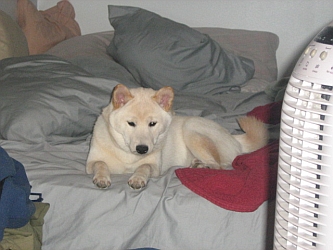 Stewie is a is a cream/white Shiba, male, roughly 3 y/o, neutered. He ran away from my home in Gahanna, OH. I have alerted many local and county agencies. If you hear anything please call Brian at home at 614-939-5941 or on my cell phone at 614-719-9620. Or contact via email Brianbrianhackman@gmail.com
Honey - Lost in Lima OH on October 17 2010.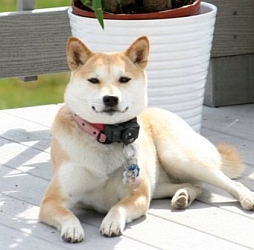 Honey is a 3 year old female Shiba Inu. She was lost on Oct 17, 2010 in Lima OH. She was last spotted in North Lima, Ohio 44408 (Beaver Township). She is about 15 lbs & is orange & white. She was wearing a collar with tags when she went missing. If you see her please contact Kathy 330-550-7257 or email kathy@magicalcomputing.com

Click here to download Honey's Lost and Found flyer: Honey Flyer.
SIMBA - Lost in Wilmerding PA on July 3 2010.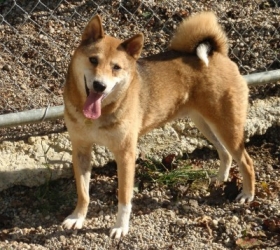 Simba is a 6 year old neutered male. He weighs 40 lbs. He slipped his collar so he has no tags on. He is a rescue dog and very affraid of people especially men. He will probably run if you attempt to approach him. He was last seen on July 3rd at approximately 7:30pm in front of the Valley Auto in Wilmerding PA. Click
If you see him please contact Tracey immediatly at (412) 245-6278 or email info@tristateshiba.org.
Click here to download Simba's Lost and Found flyer: Simba Flyer.
HOLLIE - Lost in Elk Grove Village IL on April 26 2010.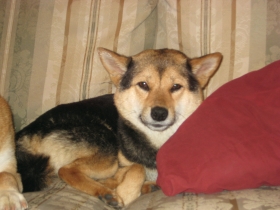 Hollie - is a 2 year old Shiba Inu, spayed female, her colors are black, tan and white. She is approx 13 to 15 lbs. She was last ween wearing a pink collar with white and green circles with paw prints. She was also attached to a 6' pink leash. Last seen April 27th at the Jewel-Osco at Beisterfield Rd. and S. Arlington Heights Rd. in Elk Grove Village, IL. Contact April: (815) 790-9634 or adoption@savingshibas.com.
Click here to download Hollie's Lost and Found flyer: Hollie Flyer.
FOXY - Lost near Red Rocks Amphitheater vicinity and I-70 Morrison Colorado Exit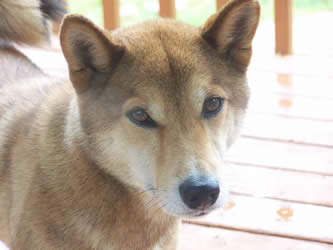 Foxy - was a stray that had been abandoned on our property. He is very timid and afraid of most people. He is 25 lbs, and has a very curly tail. Foxy has special needs. Please call 303-362-1676 or 407-353-4625 if you know where his is or if you have seen him! We will not give up hope. Click here to download Foxy's Lost and Found Flyer: Foxy Flyer
Frosty - lost in Akron OH. August 20, 2009.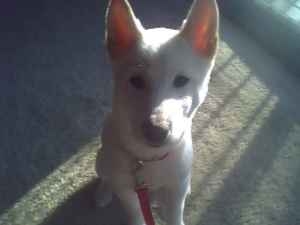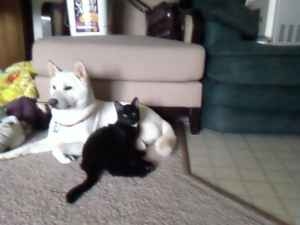 Frosty - Lost White Medium White dog in the Norton - Columbia Woods Area. He was tied up outside on Aug the 20th when a cat ran by and he got out of his collar to chase after the cat. We love this little guy...his name is Frosty. If you have seen him or know anything about him please email: Shannon or call 330-419-1340
If you have lost a Shiba in our area whether you got it from us or not, let us know. We get contacted by shelters and might be able to help reunite you and your pet. Send us pictures, and we'll post them so everyone can help reunite your family. If you've found a Shiba, we'll try and help you find their owner.
Here are some simple steps to take so that you can find you pet if they get loose:
So it happened. Your pet got loose and you can't find them. What do you do?